Tarpaulins & Trailer Covers
As one of the largest tarpaulin manufacturers in the UK, we're sure we can provide you with the right product!
Our tarpaulins can be constructed from a variety of high quality materials, including PVC and Canvas, to ensure that they meet their required use. Also, we are able to supply waterproof and flameproof material in a wide variety of colours to further suit your needs.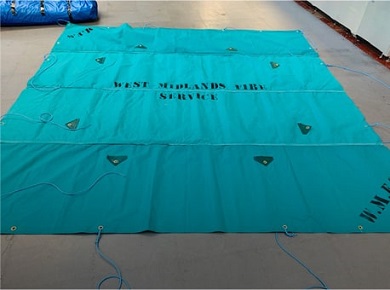 Custom Tarpaulins
As well as a wide range of material combinations, we can supply tarpaulins to almost any size and shape; supplied with an almost endless range of components, including built in eyelets, ropes, and ratchet straps.
All of our tarpaulins are able to be printed with your design so you can have maximum company exposure when using your tarpaulin.
Trailer Covers
We produce custom made covers for us in conditions where standard tarpaulins and just aren't enough. Our covers can be made of a variety of materials, ranging from traditional canvas, to heavy duty PVC. They can also be made to include a variety of components, such as straps and hooks.
The experience that we have from the years spent in textile fabrication have resulted in our covers being highly sought after as our customers are assured that their cover, which by nature will be of a unique design, will be constructed to the highest standards.
If you would like a quote for a tarpaulin, or for any other enquiries, please contact us where we will be happy to assist you.